One of the most effective ways to teach your pet new behaviors or modify existing behavior is to train in your home. Many people find they and their dog learn easier and faster in a familiar environment. A bonus is that when working on behaviors, such as "Wait at the Door," the behavior is practiced at the door that is actually used everyday.
Appointments are scheduled at a time convenient to you, and all family members are encouraged to participate.
Here are some of the things covered in a training session:
Puppies: Right From the Start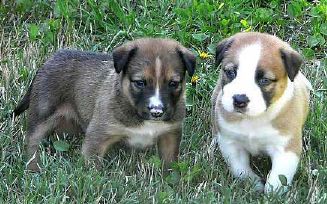 Why first impressions are so important.
Why teaching your puppy to "say please" is such a good thing!
Two behaviors your puppy should learn now!
How to instill a lifelong love of learning in your puppy.
How to always setup your puppy for success.
Adolescents: Those Crazy Adolescents!

What normal adolescent behavior is and how to live with it.

Learn to teach the basics of good behavior.

Work as a team with your dog and have fun!

Learn why using punishment works against you.

Understand that

what you "say" isn't always what your dog "hears."
For Dogs of All Ages: What a Good Dog
All basic behaviors such as sit, down, stay, walk nicely on leash, recall, etc.
Special interest in fear, reactive, and post-adoption behavior.
Also, problem behaviors, such as barking, housetraining, jumping, anxiety-driven behavior, stealing objects, possession guarding, etc., are addressed in the training sessions. If it is a problem for you it is a problem for your dog, and I can help!
Please contact me if you have any questions about training sessions for you and your dog.

Here's What's New

Clicker Tricks Class
Fun for you and your dog

More than just sit, stay, and lie down!

High five, fun retrieve, ride a skateboard, teach your dog to read, and much more
Therapy Dog Training
Train your dog to be a guardian angel for people in need
Classes offered at:
Central Bark Oak Creek
1075 Northbranch Drive
Oak Creek, WI 53154